The week started off with a plan to finish moving the dirt from the area next to the garage where the chicken hut will go. Once this was done we started to repair the path which had be come a mess from the work we had been doing and from the large farm vehicles that had come to bail the hay from the meadows. Just as I was nearing the finish of this job the digger stopped moving. A pipe had burst so work stopped while investigated the situation.
Turns out that this pipe had obviously been an issue for sometime but it had been resolved by stuffing the box containing the pipe work with sand. This meant the leak was not longer obvious but as time passed the sand has just corroded the pipes and metal protecting the pipes. I have learned already from previous pipes breaking that you have to take the broken pipe into the hydraulic company so that you can get the appropriate replacement.
Cat and I decided we would complete the movement of the mud by hand. For Cat this actually meant by hand because the mud was so heavy and it was raining while we were working so she actually found it more effective to pick up lumps and throw them onto the pile then to shovel them. We each worked away and actually moved about 10 tons of mud! This is a classic example of how all your plans for the week can be greatly altered, this had already set us back a day and now we had to go to Inverness.
We set off very early on Thursday morning to Inverness and got the pipe sorted, did some shopping and got home in time to do a few jobs around the place.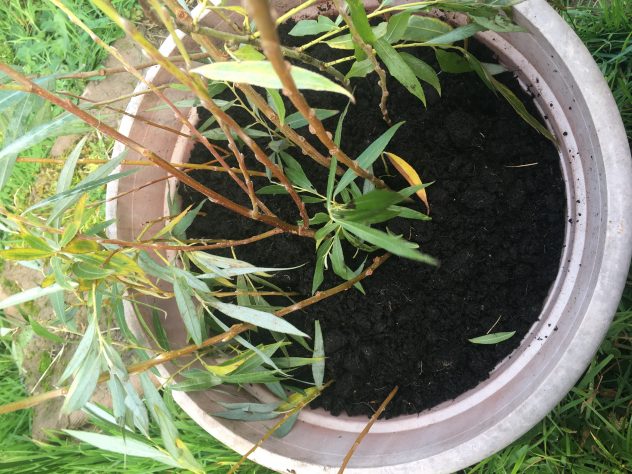 On Friday we got a call and went to pick up some willow cuttings which we broke down and planted on 3 sides of the veg garden. The plan is to grow a willow hedge which we will weave into itself to create a wind breaker. Continued strimming the meadow edges and preparing area around outdoor toilets for the upcoming Halloween party.
Saturday we got up early and hit the lower meadow together, managed to strim all the edges and parts of Jimmy and Ian's walk.
Sunday organised the barn.