With window of good weather presenting itself we decided that this is the week to get the polytunnel moved. We have already been planning this so we started by pulling back the material we had covering the spot where we want to move the tunnel to.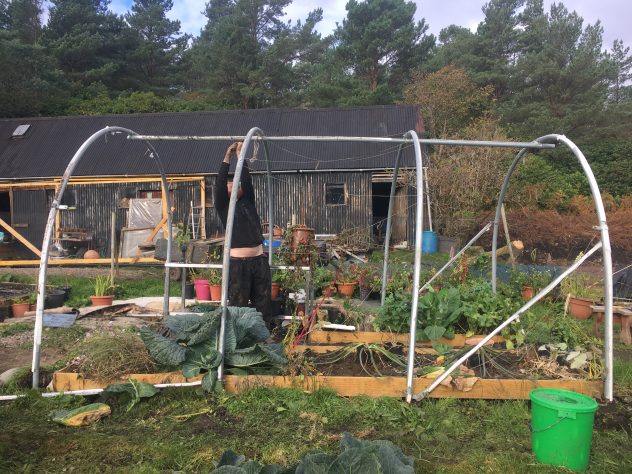 We then had to disassemble the polytunnel and chip away the concrete from the metal sections that held it into the ground. Once this was done we could dig the new holes which were carefully measured out. We used postcrete and a leveller to make sure we had everything just right as this part of the job will determine how sound the structure is. After the base poles were set we could fit the 3 arches and the beam that joined them all. The days are getting shorter and as we were losing light we decided that we should stop for the day.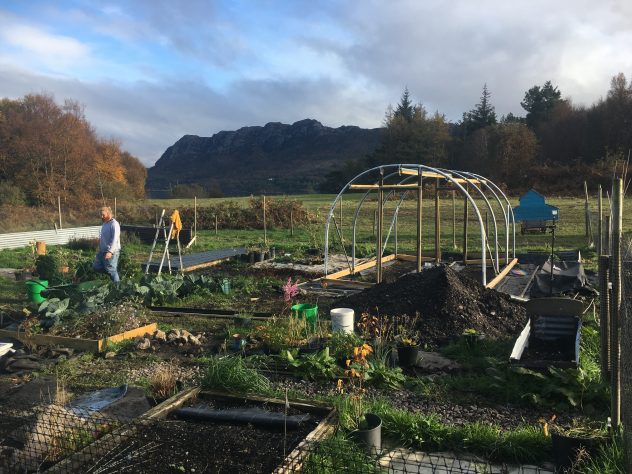 Day two involved laying mypex around the base of the polytunnel, adding a base frame which will hold down the plastic, building the frames to hold the doors and adding 3 beams at the top which we will use to hold up the strawberry gutters (watch this space) and they will also make it easier for us to create supports for vine plants. Amazingly we thought all of this would only take the morning but yet again the sun was setting so we packed up for the night.
Day three and we were ready to skin the polytunnel. Thankfully we had some help since Hannah and Gavin were up and Jane came out to give us a hand too. Once we had most of the plastic in place Hannah and I ran off to make kimchi using a huge cabbage from the bed that used to be in the polytunnel while the other guys finished tightening the plastic.
Day four and James and I built the doors, stretched them with plastic and got them hung. With the tunnel tight and doors closed we put the min max thermometer in and went off to work on getting the main path back in good shape in preparation for the party coming up.
What a week and what great weather!!
SaveSaveSaveSave